Training LEED, DGNB and BREEAM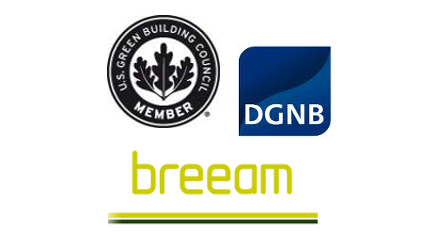 As an experienced DGNB auditor, LEED AP and BREEAM Assessor we are faced with the criteria, requirements and verifications for the certification of sustainable buildings. Within lectures, trainings and workshops we give our knowledge and practical experience compact and individually processed to builders, planners, product manufacturers and contractors.
Training LEED, DGNB, BREEAM for project participants
Training in your company followed by a discussion allows you and your employees to obtain a good and quick overview of the certification systems LEED, DGNB and BREEAM. We explain the requirements, the process, motives of builders for certification, challenges for owners, planners, construction companies, product manufacturers, etc. In addition detailed requirements of  the certification systems and the challenges related to the new versions (DGNB 15 and LEED V4) will be explained.
Agenda:
Presentation of the building certification systems LEED, DGNB, BREEAM
Criteria, Requirements and Verifications in LEED, DGNB, BREEAM system
Presentation of the new requirements of DGNB NBV 15 and LEED V4
Debate other topics and discussion (competitive advantages, trends, …)
Workshop LEED, DGNB, BREEAM for product manufacturers
The focus of our workshops for product manufacturers is to present the criteria and requirements which relate to your products or will affect you in the future according to the certification of buildings. Together with you, as a product manufacturer, we develop a tailored solution for you, to simplify the verification according to DGNB and LEED in your company or project .