01.12.2016 Recycled content is defined in accordance with ISO 14021 and is distinguished between post-consumer and pre-consumer. In both the LEED v3 and LEED v4 systems, the use of recycled materials can earn additional points toward achieving certification.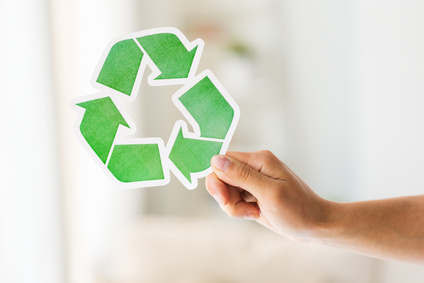 Image: © Syda Productions – Fotolia.com
Recycled content: post-consumer and pre-consumer
Recycling content is defined in accordance with ISO 14021 "Environmental Labeling and Declarations – Environmental Supplier Declarations (Type II Environmental Label)". A distinction is made between post-consumer and pre-consumer recycling.
Post-consumer materials are waste from households, commercial and industrial facilities, or institutions (who are end-users of the products) that can no longer be used for their intended purpose. This includes recycled material from the supply chain.
Pre-consumer materials are separated from the waste stream in the manufacturing process. It does not include the reuse of materials from post-processing, regrinding or scrap, which are generated during a technical process and can be re-used in the same process.
Sustainability reports in the LEED system
Points can be achieved in the LEED v3 system in MR Credit 4: "Recycled Content." In order to earn a point, a 10 percent recycling proportion (based on the material costs of the entire building excluding HVAC) must be reached. For two points, a proportion of 20 percent of the project is required.
In the LEED v4 system, the recycling proportion is considered under option 2 in MR Credit 3: "Building Product Disclosure and Optimization – Sourcing of Raw Materials." In total, 25 percent of the materials (based on costs) must exhibit one of the following:
Extended manufacturer responsibility (e.g. recycling program)
SAN certificate (bio-based materials)
FSC certificate (wood products)
Use of reused materials
Use of recycled materials
Materials harvested, manufactured, and sold within 160 km (100 miles) are weighted twice.
We are happy to assist you with rating your products in accordance with LEED criteria. >> Contact